Failed your emission test? Bring your car to Corsa Auto and we will do any repairs needed so you can pass the test and get back on the road.
---
Exhaust System
Keeping your exhaust system in good working condition is vital for fuel mileage, the environment and your safety. When fuel and air are burned in the combustion chamber, they create gases. The exhaust system carries away these gases. These gases are harmful to humans and the environment; therefore, a functioning exhaust system is vital, not only for passing the emission test, but also you and your loved ones.
The exhaust system starts in the front of your car just behind the engine. The main components in the system are the exhaust manifold, oxygen sensors, catalyctic converters, the muffler and the exhaust pipe.
Exhaust Manifold
The exhaust manifold attaches to the cylinder head and takes each cylinder's exhaust and combines it into one pipe.
Oxygen Sensor
All modern fuel injected cars utilize an oxygen sensor to measure how much oxygen is present in the exhaust. From this the computer can add or subtract fuel to obtain the correct mixture for maximum fuel economy. This is how the exhaust system plays a major role in fuel mileage.
Catlyctic Converter
This component is reponsible for converting harmful gases before they are released into the atmosphere. This muffler like part converts harmful carbon monoxide and hydrocarbons to water vapor and carbon dioxide. Some converters also reduce harmful nitrogen oxides. The converter is mounted between the exhaust manifold and the muffler.
Muffler
The muffler's job is to quiet the exhaust down to acceptable levels. Remember that cars use a combustion engine which is a series of explosions that produce a lot of noise. Mufflers use varying technologies to reduce and/or absorb most of the noise.
Exhaust Pipe
Between all of the above mentioned components is the exhaust pipe which carries the gases from the front of the car to the back known as the tail pipe. This is the pipe visible near the back of the car.
Common Problems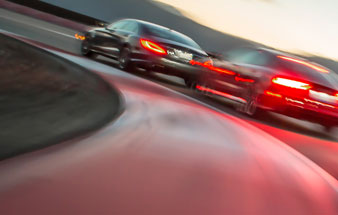 Here are some common exhaust problems:
Exhaust system corrosion (more commonly known as rust)
Malfunctioning oxygen sensor
Muffler corrosion (rust)
Catalyctic converter cloggage
If you notice a decrease in your gas mileage, rust on your mufflers, too much smoke, loss of power and/or heat coming from the floor of your car, it is time for you to get your exhaust system inspected. Those are just some warning signs and you should not solely rely on them. If at anytime you feel like your car is not responding well, bring you car to Corsa Auto and let our licensed technicians inspect it. We will do a thorough inspection of all the parts in the exhaust system and share all our findings with you. We will make sure you have a peace of mind.